Although the nickname of "Cowtown" doesn't do much to convey its vibrant culture, Columbus, Ohio is one of the country's fastest growing cities and boasts a plethora of exciting things to do. It's anything but a boring farm town; from museums to festivals, a visit to Columbus is sure to be a memorable one at any time of year. Ready to see what Columbus is all about? If you're searching for vacation rentals Columbus Ohio has some swanky apartments to call your home away from home.
January: Dine in style during Restaurant Week
When the temperature dips below freezing, it's tempting to stay on the couch, wrapped up in a blanket, and eat a microwavable dinner. Need an excuse to go out? January's Restaurant Week is the perfect opportunity to throw on your fancy winter wear and savor a top-notch dinner without breaking the bank. Columbus' top restaurants participate in this week-long program, in which prix fixe menus are available for discounted prices.
February: Plan a date night at one of Columbus' performing arts venues
Searching for Valentine's Day plans? Treat your special someone to a night on the town, complete with a show that's worthy of Broadway or Madison Square Garden. Columbus is home to world-class stages like the Ohio Theatre, the Palace Theatre, the Lincoln Theatre, and the Southern Theatre, all of which host plays, musicals, concerts, and more. A&R Music Bar and the Big Bang Dueling Piano Bar are also great options for a toe-tapping night out.
March: Stay active in the winter weather
Yes, March can still see cold and snowy weather conditions, even as the days start to get longer. If you start to feel a bit of cabin fever, there's still plenty to do outside in the Columbus area. Stretch your legs and go ice skating at one of the many rinks, like the OhioHealth Ice Haus or the OSU Ice Rink. Sledding is also a fantastic option, especially with kids, and parks like Wyman Woods Park and Scioto Audubon Metro Park have perfect sledding hills.
April: Visit a fascinating Columbus museum
As the saying goes, April showers bring May flowers, so expect a bit of rain during a typical Columbus spring. To avoid getting drenched, retreat inside to one of the many museums in the Columbus metro. Highlights include the Columbus Museum of Art, the COSI science museum, the Kelton House Museum, and the Ohio Statehouse.
May: Bike along the Scioto Greenway
Aside from the occasional rain shower, the weather in May is beautiful, so there's no better time to hop on a bike and cruise along the Scioto Greenway. This scenic trail runs along the Scioto River for miles, so you might want to make a pit stop for a beer and a snack at Woodland's Backyard or Strongwater Food and Spirits.
June: Party at Columbus' summer festivals
Summertime means party time in Columbus! Three of the city's biggest festivals happen in June: the Park Street Festival, Pride, and the ComFest music festival. At Park Street Festival, expect fun for the whole family, with live music, art, and good food. Columbus' Pride parade is the second-largest in the Midwest, behind only Chicago, and ComFest is the country's biggest non-commercial music festival, which is run by volunteers and has free admission.
July: Watch the Doo Dah Parade
Most cities celebrate the 4th of July with a parade, but Columbus takes it one step further with the annual Doo Dah Parade, a wacky celebration of art and freedom of speech. Participants dress up in crazy costumes to march along the Short North's High Street. You're sure to laugh and have a good time, and you just might end up getting convinced to march in the parade too.
August: Admire the flowers at the Park of Roses
Flowers aren't only for the springtime! Columbus' Park of Roses is a 13-acre swath of impeccably groomed gardens, which feature around 11,000 individual roses. Peak season for these blooms isn't April or May, but instead late June through September. See if you can spot all 350 varieties of roses!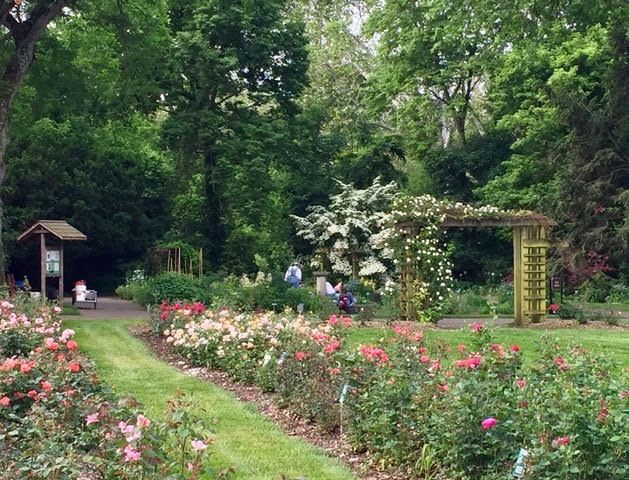 September: Raise a glass at Oktoberfest
No need to travel all the way to Germany for an authentic Oktoberfest experience! Columbus puts on one big party in mid-September, complete with German music, food, and beer. There are even games for the kids. Don your dirndl and get ready for some good times. Prost!
October: Watch an OSU Buckeyes football game
Columbus is serious about college football. How serious? The Ohio State University is home to one of the country's largest football stadiums (including NFL stadiums!), but Buckeye Fever isn't just confined to campus. Fans flock to Columbus from all over the world to catch games during the fall football season, earning the Buckeyes a consistent top-four ranking in terms of college football game attendance nationwide.
November: Celebrate the fall harvest at North Market
Featuring more than 30 local vendors, North Market is Columbus' year-round destination for farm-fresh produce, homemade baked goods, and more. During the autumn months, however, the farmers' bounty is even more abundant, with seasonal favorites like apples, pears, and squash at peak ripeness.
December: Bundle up and enjoy WinterFest
Nothing is more festive than putting on a coat and boots and celebrating the season at WinterFest! This annual wintertime event features live music, food trucks, local beer, and twinkling lights. With so much to see, do, and eat, you just might forget all about the cold!
So get your travel playlist ready and get ready to visit The Arch City. No matter when you choose to visit Columbus – or if you live here year-round – there's always something to do in Cowtown. Mark your calendars so you don't miss the best things to do in Columbus!